National

Real Estate numbers
Local Real Estate Stats and Market Data for SW Florida

– March 2020 data
The Numbers:
Median Sale prices increased 6.6% for Single Family, and 6.0% for Townhouse and Condos over last year. Single family home Inventory is down -24.9 year-over year in Active Listings, showing a 4.6 Months Supply of Inventory. Active listings were also down by -27.8% year-over-year for Townhouses and Condos with a Months Supply of Inventory of 5.1. The time properties spent on the market in January was 73 Days for Single Family Homes and 75 days for Townhouses and Condos.
For the most part, median sales price has been "flat" for a while this past year, but have recently shown increases in the past 2 months.

Details about the Inventory of homes:

Experts typically equate an inventory level of about 6.0 months or more to a buyers market;and less than 5.0 months to a sellers market.
Conclusion:
Unfortunately the Covid-19 virus scare has given us a lot of uncertainty in recent weeks, but it is important to know how strong the real estate market was for the first 2 months of the year. This should give everyone some confidence that when things start to get back to normal, I predict a quick recovery in the local real estate market here in SW Florida.

Single Family Stats: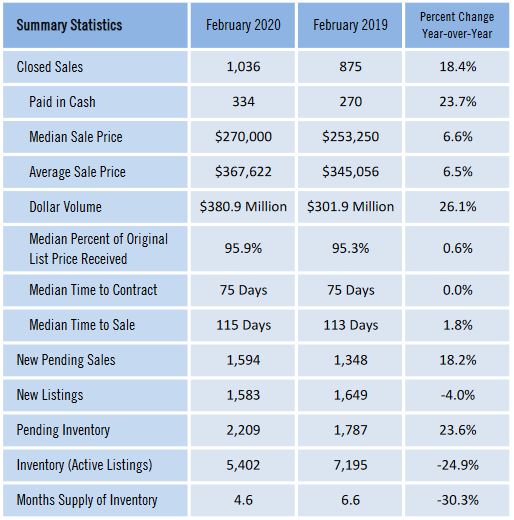 Condo/Town Home Stats: