National

Real Estate numbers
Local Real Estate Stats and Market Data for SW Florida

– February 2019 data
Median Sale Price:
Locally, the median sale price for single family homes increased about 7% from the previous month to $264,498,000. This represents an increase of 8% from the same time a year ago, but median sales price is virtually flat from last April to now. The median sales price for condos and town homes decreased from last month 7.5% to $189,495. This reflects an overall decrease of .8% from last year.
For the most part, median sales price has been "flat" for the past 10 months even though the number of sales remain robust.
Inventory of homes:

Housing inventory for single family home increased 18.9%, and condos/town home inventory increased 12.5% over the same time last year. This represents a 6.5 months supply of inventory for single family dwellings and 7.5 months supply for condos/town homes. Experts typically equate an inventory level of about 6.0 months or more to a buyers market;and less than 5.5 months to a sellers market. Average days on market are 67 days for single family homes and 77 days for condos and town homes.
Double-digit increases in inventory are quite dramatic and further increases will most likely effect sales prices for 2019.
Conclusion:
Prices points of over 300k are clearly in a buyer's market in both condos and single family homes. Price points of under 300k are still a balanced market for single family homes, but a buyer's market for condos. In many price points and communities, appreciation has slowed or stopped. This may be the perfect time to sell being at the "peak" of the cycle. One must be cautious not to over-price their home.
Interest rates remain low and gives the average buyer continued buying power.

Single Family Stats: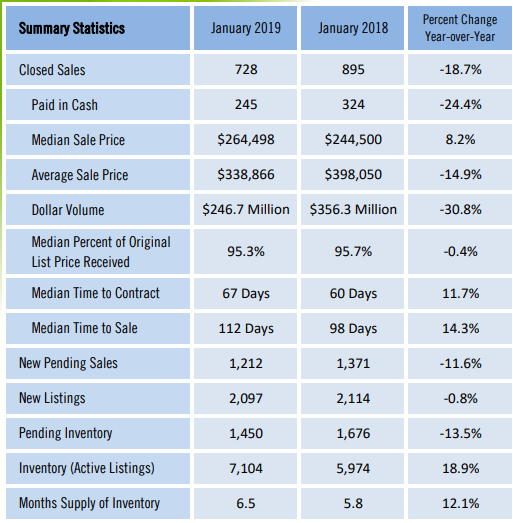 Condo/Town Home Stats: